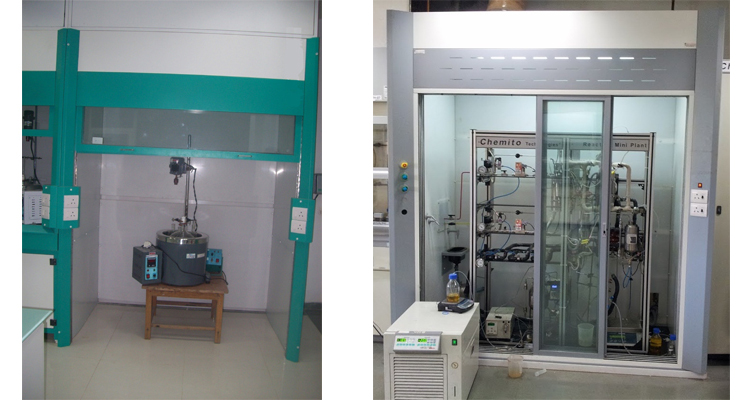 Walking fume hood are basically a bench hood that reach the floor, do allow users to walkin and out to set up equipment before and after work begins. Walking fume hood is also known as a Floor Mounted Fume hood. Our walking fume hood is designed with horizontal sliding sash , vertial sliding sash & combination sashes. Walking fume hood is specially designed for large apparatus and storage of containers that pose some hazard, but it will not to be used as a storage cabinets.
This type of a hood is also suitable for the same type of work conducting in bench top hood and distilation hood. Walking fume hood is used in pharmaceuticals,Chemicals , Bulk Drug, and oil industries for a kilolab application,processing units, distilation purpose. Our designed is based on Industy Demands , the Highest Quality Material and Latest Technology. We can also make Fumehoods as per your suitable requirements.
Advance Aerodynamic design.
PP Powder Coating Finish for better resistance to corosion.
Excellent smooth sash movement.
Vapour proof flurocent light.
Removable / Preset baffel provides uniform face velocity.
Removable access panel for maintainance.
FRP airfoil for better resistance to corosion(Optional).
Damper with Manual Adjustment Regulator.
Tall Interior Working Height.
Latics Assembly to hold the appratus.
Material of construction (MOC)
CRCA Sheet (Cold rolled close Annealed)
GI (Galvanized Iron Sheet)
SS304/316 (Stainless Steel)
Wood (Marine Ply with laminates)
PP (Polyproplene)
Standard Size
3 Feet (L 900mm X D 1000mm X H 2550mm)
4 Feet (L 1200mm X D 1000mm X H 2550mm)
5 Feet (L 1500mm X D 1000mm X H 2550mm)
6 Feet (L 1800mm X D 1000mm X H 2550mm)
7 Feet (L 2100mm X D 1000mm X H 2550mm)
8 Feet (L 2400mm X D 1000mm X H 2550mm)
Work Top
Standard Black Granite
Telephone Black Granite
Back Painted Glass
Stainless Steel 304 (SS304)
Stainless Steel 316 (SS316)
Ceramic Top
TRESPA-TOP LAB (Imported)
Inner Lining
Polyproplene (PP)
Fiber Rainforced Plastic (FRE)
Phenolic Resine (Laminates)
SS304
SS316
TRESPA-VERTICAL (Imported)
Base Storage Cabinet
Apparatus Storage Cabinet
Chemical/Solvent Storage Cabinet
Combination Storage Cabinet
Sash Arrangment
Vertical Rising
Horizontal Sliding
Combination of Verical and Horizontal Sliding
Utility Valves
Electrical Services
6/16 amp Socket and 16 amp switch
20/32 amp Industrial Socket with MCB 20/32 amp
20/32 amp BCH Socket with MCB 20/32 amp
Flame Proof Switch and Sockets
Latics
Pure apoxy latics
MS rod latics
SS rod latics
Cup sink
Ducting
Polyproplene (PP)
Fiber Rainforced Plastic (FRE)
High Dencity Polyethelene (HDPE)
PVC
Blowers / Scrubbers
Polyproplene (PP)
Fiber Rainforced Plastic (FRE)
Molded Blower
Airflow Monitor with Alarm
Temperature Indicator
Fire Extinguisher
Color Shade
Lista Blue And White
Gray And White
Green and White
Usha Beige and White
Orange and White
Brown & White
VIP Blue & White
Blue & Gray
Complete White